In this article, we will discuss to install Cawbird Twitter Client on various Linux distributions such as Ubuntu, Debian, Linux Mint, Fedora, CentOS, and so on. This application is the best choice for users who want to access their Twitter account through a package. Let's learn more about the app.
What is Cawbird Twitter Client (Corebird Fork)
Cawbird is actually a modern and lightweight Twitter client for Gnome 3 desktop and supports probably all widely used Linux distributions. It offers a number of key features to users like inline image, video preview, creation of lists and favourites, filtering of tweets, and many more. Even Cawbird allows users to manage multiple accounts through a single app.
In previous days, Corebird was popular which later became unsupported after the Twitter had disabled support of for streaming API, and thus the new Cawbird come into existence. This is why Cawbird is also called to be a Fork of Corebird, that uses the new APIs and includes a number of new modifications and fixes. Due to new modifications on Twitter API (2), Cawbird has a number of limitations which includes:
It will update frequently, actually every 2 minutes.
Cawbird will not show notifications for following actions, however it will be refreshed when the app is restarted:
-Unfavourite
-Follow/Unfollow
-Block/Unblock
-Mute/Unmute
-DM deletion
All these limitations are imposed by Twitter itself and not by the Cawbird client application.
How to install Cawbird Twitter Client on Linux Distributions
In order to install the package on your Linux distribution, we will discuss two methods here, either through installing Snap package manager or through installing Flatpak on Linux. So, let's check out both of the approaches below:
Approach 1: Install Cawbird Using Snap
If you have not installed and enabled Snap on your Linux distribution, read our previous article and install the package manager.
After you have successfully installed Snap and enabled it on your Linux machine, run the following command to install Cawbird Twitter client:
sudo snap install cawbird
That's it. You are now ready to use Twitter on your Linux machine easily. Let's check out the other approach to install Cawbird using Flatpak.
Approach 2: Install Cawbird Using Flatpak
In order to install the Twitter client application through Flatpak, you need to install the package manager first and enable Flathub repository, which we have discussed in our previous article.
If you have installed Flatpak and enabled the required repository on your Linux computer, you can easily run the following command to install Cawbird application:
flatpak install flathub uk.co.ibboard.cawbird
Alternatively, Visit official site here, and click on 'Install' button to begin the installation automatically.

Once the app is installed, you can access the flatpak app by running this command in terminal:
flatpak run uk.co.ibboard.cawbird
Now, you can easily add and access your Twitter account through Cawbird application.
Screenshots of Cawbird Twitter Client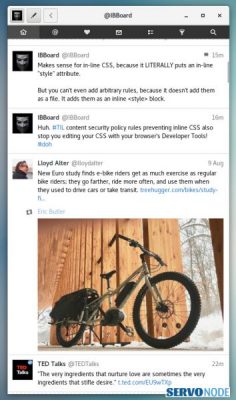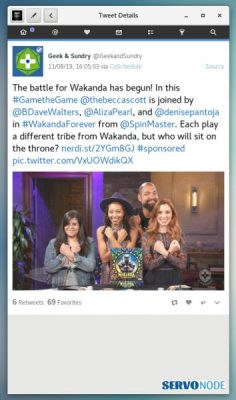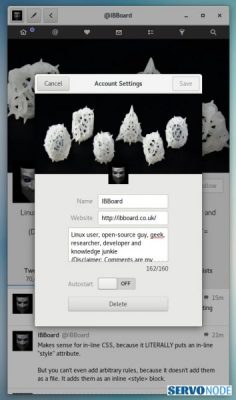 Final Thoughts
With the help of Cawbird (Corebird) installed on your Linux distribution, you can easily access your Twitter accounts without browsers. We have discussed here how to install the app on any Linux distribution, and it's quite easy. Do share this tutorial with your friends. If you have any question, you can click to Visit Our Discussion Board.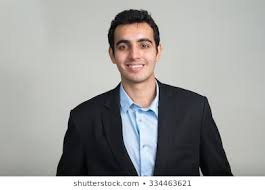 Nishant Verma is a senior web developer who love to share his knowledge about Linux, SysAdmin, and more other web handlers. Currently, he loves to write as content contributor for ServoNode.