In this article, we includes top 12+ best backup tools for Linux in 2021 that will help you to create backup of your important files on Linux distribution like Ubuntu, Fedora, Debian, RHEL, and so on. So, if you are planning to choose the best backup tool for your Linux, read this article to find the best option.
Although, Linux operating system is considered to be safe and flexible enough to do customization, still it can sometimes lead to permanent data loss. And in such instances, the users remain with only option to recover the loss, is to use a lately created backup of their files. Actually, Backup on a computer is the best way to prevent any data loss caused by accidental deletion, corruption of files, etc. and in terms of Linux, a system administrator must known some of the best backup tools for Linux that can help creating backups easily.
Backups are often recommended to be created periodically, and this can be done manually as well as automatically. Even there's a number of backup tools available that offers different features and allow users to configure how their backup should be created, what to backup, scheduled backup, and so on. So, let's discuss some of the top 12+ best backup tools for a Linux operating system to find the best backup option for your machine.
List of best backup utilities for Linux
1: Rsync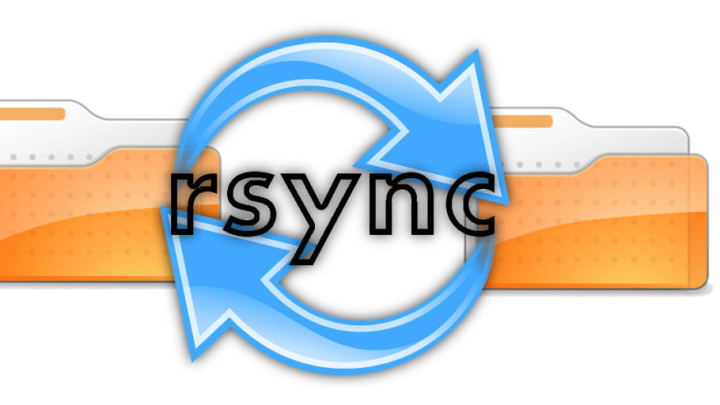 In the list of best backup tools for Linux, Rsync is the first option we want to include because it's a command-line backup utility, and is quite popular among Linux users or system administrators. Using this tool, the users can avail a number of features like incremental backups, whole directory tree or file system backup, local or remote backup, ownership or permission backup, links, and so on.
For newbies, this tool is also available in GUI (Graphical User Interface), however, the tech savvy ones or system administrators often like to use Rsync as it offers to automate backups using scripts or Cron jobs on Linux.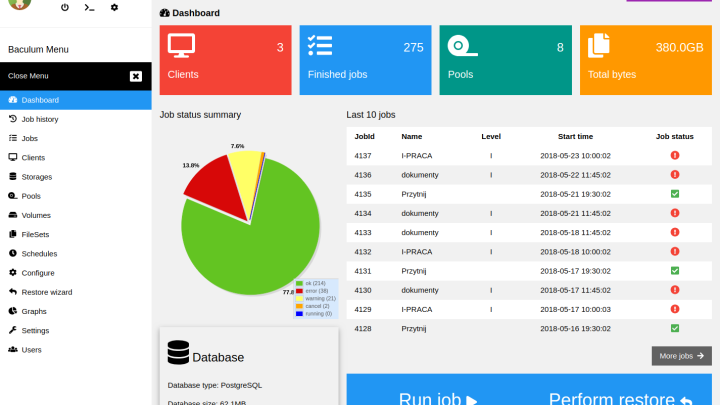 The list secondly includes Bacula as it's an open source backup utility for Linux. It offers easy data backup, and data recovery. Technically, the application is designed to be enterprise-ready with some complexities. However, these complexities here means its powerful features such as backup configurations, remote backups, and so on.
This backup tool is technically a network-based application and is created with following programs here included:
a director: Supervises all operations of Bacula.
a console: Allow users to communicate with the Bacula director.
a file: Installed on the machine to be backed up.
storage: Used to read and write to storage device.
catalog: Responsible for the databases used.
Monitor: Keeps track of all events in Bacula.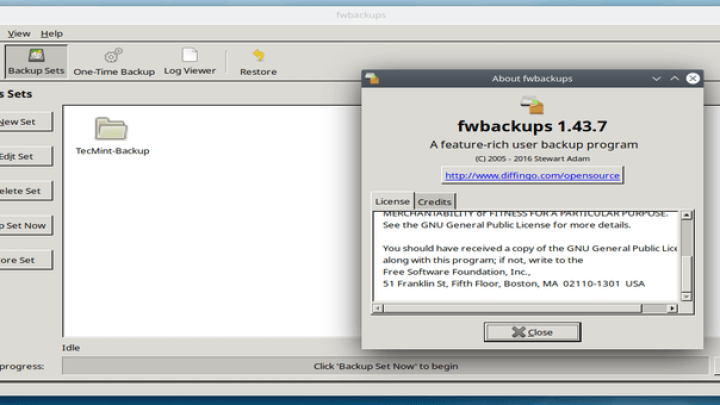 It's another free and open source backup tool for Linux that is available cross platform and is loaded with various features. Since the app is open source, the users can also contribute to its development or join the testing program to improve its features. With the help of this application, a user can get following rich features that allows them to backup their data or important files much easily:
Remote backups
Easy to use interface
Entire file system backup
Various backup configuration
Backup with exclusion of certain files or directories, and many more.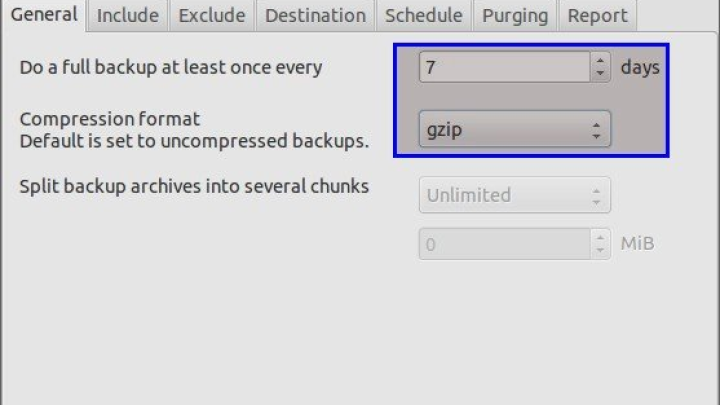 If you prefer to use Gnome Desktop Environment on your Linux distribution, then Sbackup is the best available option for you. Actually it allows to access all its configuration through Gnome interface. Also, it offers regex through which users an specify certain file and directory path during the backup process as well. Here includes some of its features:
Supports local and remote backups
Supports multiple backup profiles
Help to create compressed and uncompressed backups
Manual or scheduled backups
Split compressed backups to small pieces
Logging and email notifications and so on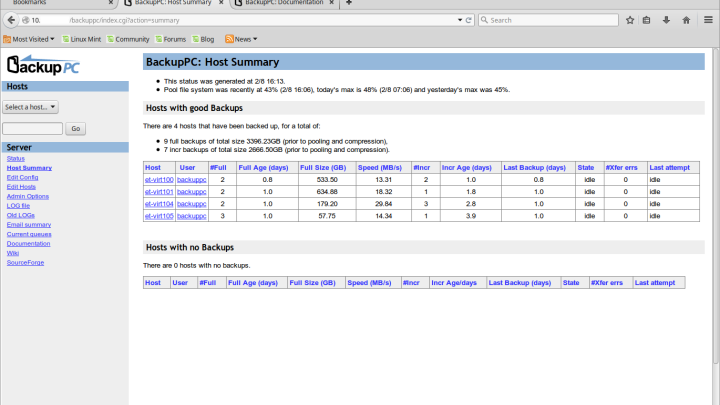 It's one of the most popular backup utility or application that's available for cross-platforms including Windows, Mac OS X, and Linux distributions as well. Means, the tool is complete designed for enterprise-level use and offers a number of high-performance features. Also, it can be used for performing backups on servers, personal computers, or laptops as well. Let's check out some of its features:
Compressed backup files
No requirement for client-side app (for server)
Notification to inform users regarding need for backups
Flexible backup restoration process
Flexible backup configuration based on various parameters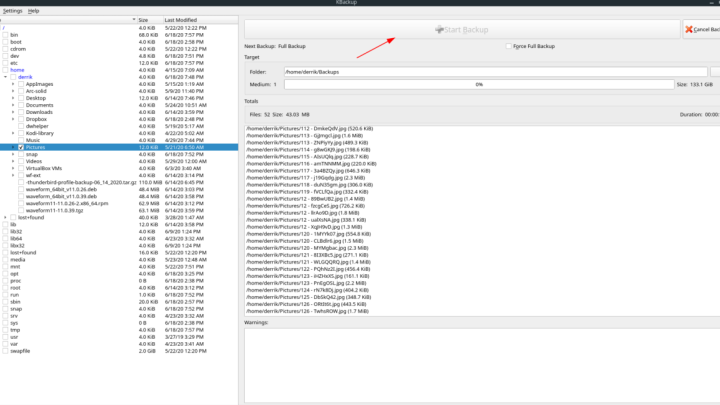 It's another easy to use backup utility for Unix operating system and is compatible with Linux as well. With the help of this tool the users can easily create archives and compress them as well using tar and gzip compression utilities. Let's check out some of its features:
Offers an interactive and menu-driven interface.
Supports automated unattended backups.
Supports compression, encryption and buffering.
Supports full or incremental backups.
Helps to create remove backups across networks, and many more.
As an open-source backup utility, Box Backup is another highly reliable option that works automatically and offers amazing features which includes:
Data compression and encryption.
Tape like attributes.
Online backups.
Automated backups.
Storage of backups in files.
Choice of backup options, and many more.
It's counted in the list of one of the open source application that easily works on Unix/GNU Linux and Windows operating systems. In order to create backups on Unix or Linux machine, it supports native backup utilities and formats like GNU, whereas it uses a native Windows client if used on a Windows based system. Also, it allows users to create and set up a single backup server over which the created backups can be stored.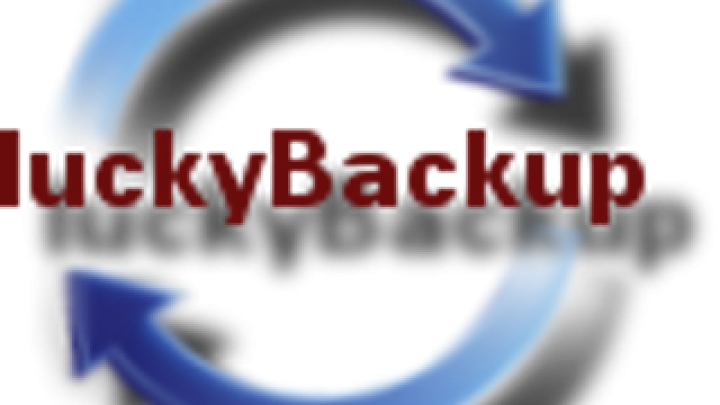 In the list of best backup tools for Linux in 2021, Luckybackup can be counted as one of the powerful, quick and reliable option that is actually powered by Rsync backup tool, about which we already discussed earlier. Here includes some of its features:
Advanced options for files and directories.
Preserve ownership and file permissions.
Created multiple backup snapshots.
Offers exclude options, along with more other features as well.
Burp is another highly efficient, feature-rich open source application that offers to create secured backup and restoration facilities as well. This application is developed to work over a network in client or server based architecture, and aims to minimize network traffic to offer reliable results. Check out some of its key features:
Supports different backup protocols, network backups, resuming interrupted backups, backup and restoration, scheduled backups, and so on.
Email notifications on successful or failed backups.
Provides a live ncurses monitor on the server.
Storage data de-duplication alike many other backup tools.
Compression of data on a network and in storage.
Auto-signing of SSL authority and client certificate.
And even many more.
Areca is another one of the best backup utility that offers various features for personal use. Using this tool, users can select a set of files or directories to backup and select the backup method and storage location for creation of easy backups. Let's check out some of its features:
Email notifications for backup process.
Offers simplicity in use in terms of configurations.
]Browser archives and even many more.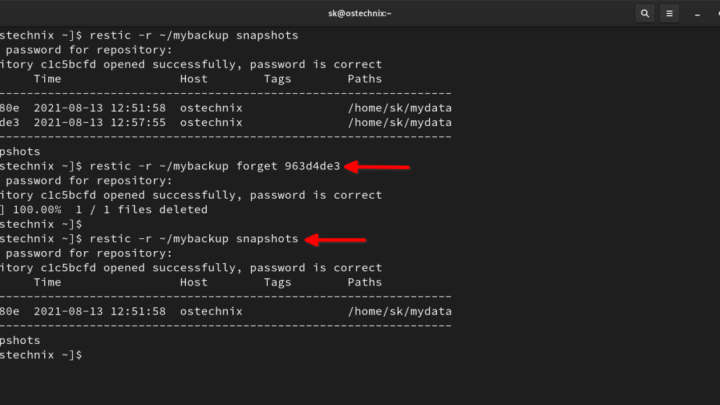 We have included Restic in the list of best Linux backup tool because it's too a command line based backup utility which is an open source, efficient, and easy to use option. Using this tool, the users cane easily create secure backup of their files to protect them against hackers, and can be used on any kind of storage environments. Following are some of its key features:
Available for cross platforms like Unix, Linux and Windows as well.
Quite easy to install, configure and use.
Uses powerful encryption for securing data against hackers.
Supports verification of data in backups, and so on.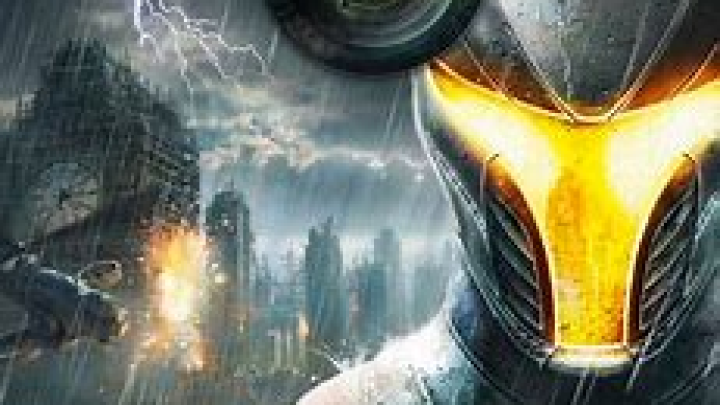 It's an amazing backup tool for Linux that takes incremental snapshots of the filesystem at regular intervals. Technically, it uses rsync and hard links to create snapshots, but offers certain other features as well which are not available through other of its counterparts. In addition, it's only designed to backup system files and settings. Means, the users can create the backup of their whole system files and settings, and restore them back when required. Check out its key attributes:
Takes only a snapshot of system files and settings including user's data like pictures, multimedia files, and so on.
Takes filesystem snapshots using rsync+hardlinks, or BTRFS snapshots.
Supports scheduled snapshots.
Supports multiple backup levels with excluding filters.
Offers restoration of snapshots during system runtime, or even through usage of live devices like USB.
14: RClone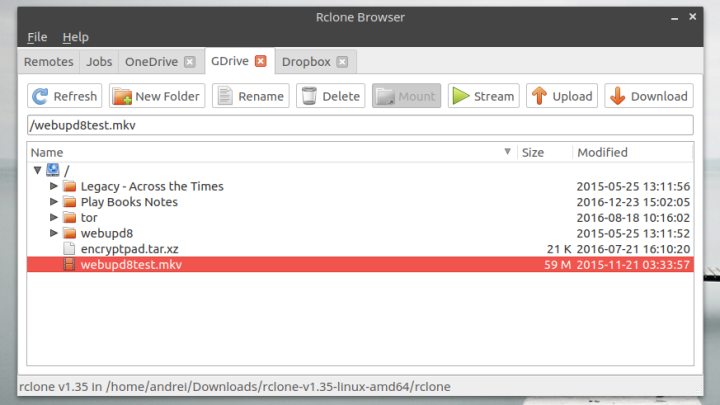 It's another available option as a counterpart of CLI based backup applications for Linux, and is developed in Go language. It's basically used to sync files and directories from a number of cloud storage providers including Amazon Drive, Amazon S3, Backblace, B2, Google Drive, Dropbox, and so on. Means, if you prefer to sync your files and create backups on a cloud based storage, RClone is the best backup utility for your Linux machine.
Conclusion
Creating frequent backups and save them over multiple platforms is often referred as the best practice to prevent data against accidental loss. And when it comes to create backups of data stored on a Linux distributions, there's still a number of options available as we discussed. We hope the list of 12+ best backup tool for Linux in this article helped you to choose the best option for your machine. Do share this tutorial with your friends. If you have any question, you can click to Visit Our Discussion Board.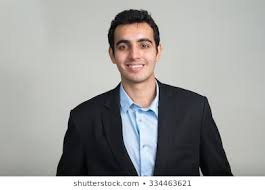 Nishant Verma is a senior web developer who love to share his knowledge about Linux, SysAdmin, and more other web handlers. Currently, he loves to write as content contributor for ServoNode.