This tutorial is exclusively for those who want to install Franz Messaging App on their Linux platforms. So, here this article brings various approaches to install the app on Ubuntu, Debian and Linux Mint, allowing users to connect through different social messaging app like Whatsapp, FB Messenger, Slack, Telegram, and so on.
Introduction To Franz Messaging App
As already mentioned in the Introduction, Franz is a third party powerful application which allows users to access various social media accounts like Whatsapp, FB Messenger, Skype, Slack, Discord, Linkedin, Telegram, etc through a single user interface. Means, it's a unifying technology that omits the hassles to access every of your account separately.
So, the app is really very convenient and must-to-install app on a desktop. While talking about its features, it's actually loaded with tons of attributed which can be beneficial to user user. Some of its features include:
A single user interface to add various social services multiple times. And this makes the app to be a best option to manage different business and private account within a single utility.
Supports wide range of business and private chat and messaging services.
Allows notification options to get notified every time a new message arrives.
In-built dark-mode.
Available in different languages.
Available for cross platforms including Windows, Mac and Linux as well.
In addition to these features, Franz Messaging app is also offers business users to get premium account which is loaded with more other features. If you want to get all premium features, you can choose between "Personal" and "Professional" packages. Click Here For Franz Pricing.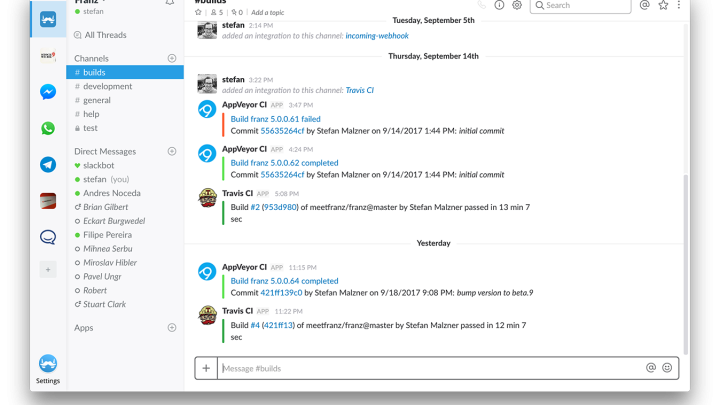 How to install Franz on Ubuntu, Debian and Linux Mint
After getting a look over various features offered by Franz, obviously you would love to have this app installed on your system. And obviously we will discuss various approaches to install this highly featured app on Linux distributions.
Approach 1: Install Franz Using Deb Package
In order to install Franz app on Linux platform, the easiest way is to download its DEB package from its website, and install it using APT command. So, Visit Franz Download Section , and click on "Ubuntu" labeled button to download the DEB package.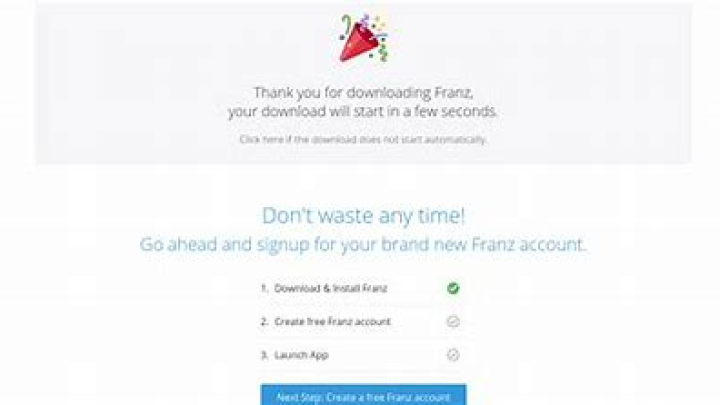 Obviously, the downloaded package would be saved within Downloads directory. You can view the file by running commands here.
cd Downloads
ls -l
Now, we just need to install the downloaded .deb package using APT command. Launch your terminal and run the commands here one by one.
sudo apt update
sudo apt install ./franz_5.7.0_amd64.deb
Approach 2: Install Franz Using AppImage
Another easy approach to install and access Franz app on Linux distributions is to use its official AppImage. You just need to download the image file from Official Website, and double click on the executable file to launch it.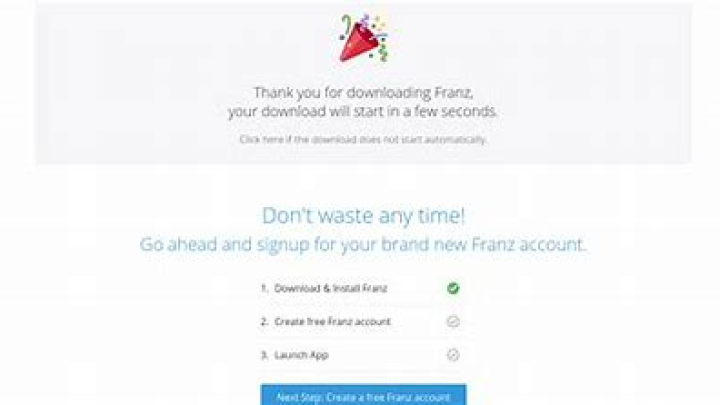 After you have downloaded the file on your Linux system, You need to mark the image file as an executable file. Just open the terminal and navigate to directory (Downloads) where the AppImage is downloaded.
cd Downloads
Now, run the command below to mark the image file as an executable file.
chmod --verbose +x Franz-5.7.0.AppImage
Done? So, you are now ready to access the file as an executable file. Just double click on the file in File Explorer to start the app. Alternatively, you can also use terminal to launch the file with command below.
Franz-5.7.0.AppImage
Approach 3: Install Franz App Flatpak
The other option which a user can choose to install Franz on Linux distributions is to use Flatpak. You might aware of Flatpak as a universal Linux package that offers to install any software package easily. Many Linux versions nowadays come pre-installed with this package manager. However, if you have a hand over older version, you still can install Flatpak package manager by running the commands here:
sudo apt update
sudo apt install flatpak
In order to install Flatpak apps easily, you might need to enable Flathub remote, here's the command to do it:
flatpak remote-add --if-not-exists flathub https://flathub.org/repo/flathub.flatpakrepo
Finally, you can install Franz app on your Linux system using the command:
sudo flatpak install flathub com.meetfranz.Franz
Alternatively, Visit Official Flathub site and click on Install button to start installing the app more easily without terminal.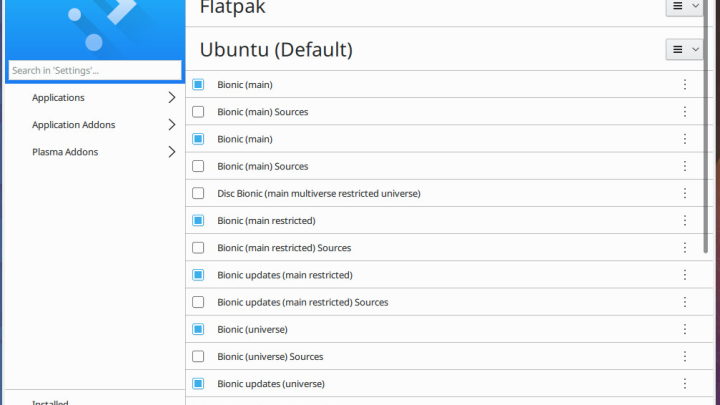 How to use Franz on Linux
After getting through approaches discussed above, the next thing is how to use Franz on Linux system, and obviously it's very easy. Just launch the app from the Applications menu in your corresponding operating system: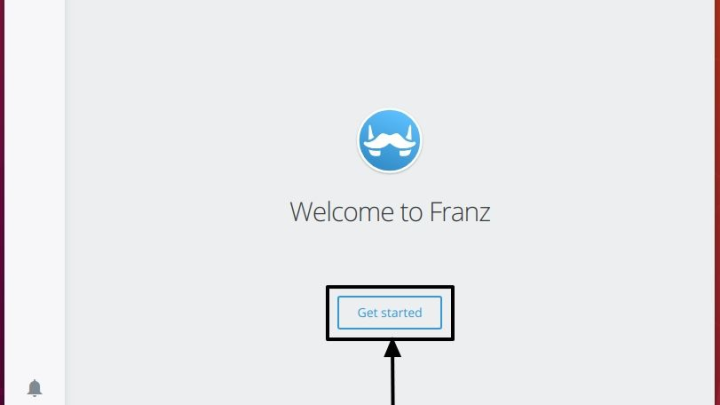 If this is your first time with Franz, you can create a new account, and that's very easy. Once you are ready with account credentials, just click on "Login to your account" button and pass the username or other credentials. Once logged-in, you can see a screen like one here: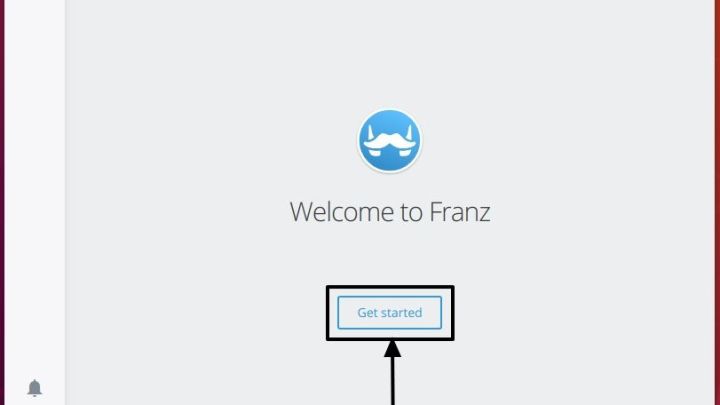 Just click on "Get started" button and here you can add the services you want to use: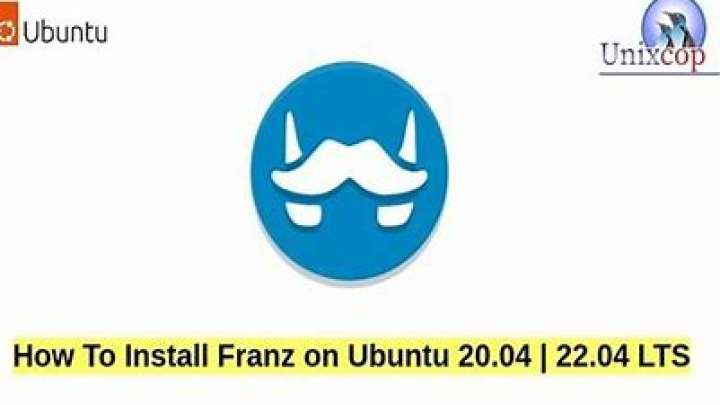 After, you add the selected service according to your needs, you are all ready to use Franz on desktop. Enjoy Franz and its features.
Conclusion
Franz is a well known application that allows users to connect with various social messaging services under a single interface. And we have discussed how to install and access this amazing app on Ubuntu/Debian/Linux Mint distributions easily. Do share this tutorial with your friends. If you have any question, you can click to Visit Our Discussion Board.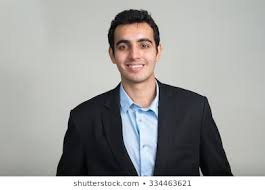 Nishant Verma is a senior web developer who love to share his knowledge about Linux, SysAdmin, and more other web handlers. Currently, he loves to write as content contributor for ServoNode.