This tutorial includes information to install GIMP Editor On Ubuntu desktop versions like 18.04, 20.04, and 21.04. Thus, the users can easily be able to use a widely known image editor application on their Linux system.
Introduction To GIMP Photo Editor
GIMP stands for GNU Image Manipulation Program. It's an open source program that is available for everyone and allows to do tasks like image retouch, image composition, and many more. This application is actually loaded with simple and advanced features that can be used as just a paint application as well as expertized photo retouching application. Also, it can be used as image renderer and image format converter.
Features Of GIMP Photo Editor
As it's mentioned, the GIMP editor is loaded with tons of advanced feature which enables users to do all level photo editing tasks. Some of its features include:
Full suite of painting tools including brush, pencil, airbrush, cone, and so on.
A powerful gradient editor and blend tool.
Supports custom brushes and patterns.
Ability to open unlimited number of images at once.
Full alpha channel support.
Transformation tools like rotate, scale, shear, and many more.
Available for cross platforms including Windows, Mac OS, and Linux as well.
Means, the GIMP features almost all such options using which the image manipulation can be performed at the best level. And in this article, we are going to discuss how to install GIMP editor on Ubuntu Linux versions like Ubuntu 18.04, 20.04, and 21.04.
How to install GIMP Photo Editor on Ubuntu: 4 Easy Methods
If you are an Ubuntu user and want to manipulate your images with GIMP, then you have 4 possible methods to install the app on your desktop easily. The methods actually includes the use of built-in Software Center, PPA, Snap package, and Flatpak. So let's discuss all the methods here one by one.
To learn how to install Gimp on Debian, Click Here
To learn how to install Gimp on Fedora, Click Here
Install GIMP Editor On Ubuntu using Software Center
In order to install GIMP Photo Editor on an Ubuntu platform, the easiest way is to use in-built Software Center in OS. Just launch the application by searching and clicking its icon. Once the Software Center appears, search "gimp" in its search text field in the mid-top position.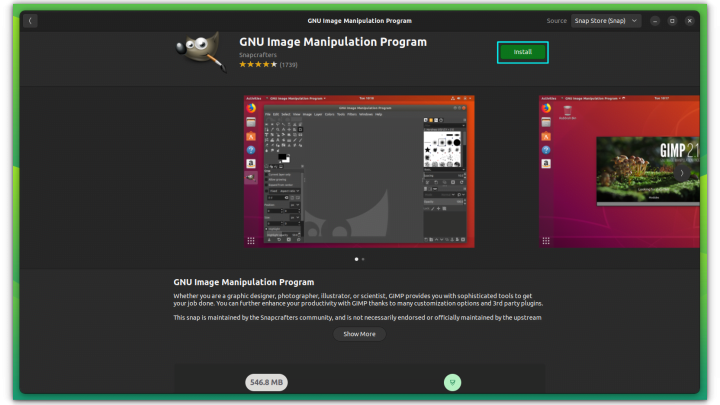 Next is to click on Install button as shown in the image below.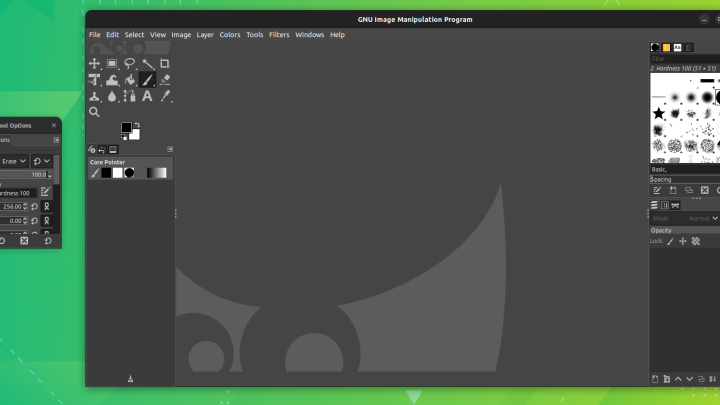 You will be asked to authenticate the installation by feeding your password and pressing Enter key, and the installation will begin. You can see the progress in the progress bar as well. Once the installation ends, you can click on Launch button to start the GIMP Editor.
Alternatively, close the Software Center, and search for 'gimp' in Application's list or menu to find and click its icon to launch the app.
Install GIMP on Ubuntu using latest repositories
The other way to install GIMP on an Ubuntu desktop is to use ubuntuhandbook1/gimp repository in your machine. You can add this PPA to your machine with following command:
sudo add-apt-repository ppa:ubuntuhandbook1/gimp
Next is to update the system cache and install GIMP editor on machine, just run the commands below:
sudo apt update
sudo apt install gimp gmic
Important Note

Previously, the GIMP photo editor was available through 

otto-kesselgulasch/gimp

 repository, which is now dropped by the developers. So, if this PPC is already set on your machine, you should remove it first, before you run above commands. To remove obsolete PPA, run the commands below:

sudo apt-get install ppa-purge
sudo ppa-purge ppa:otto-kesselgulasch/gimp
Install GIMP on Ubuntu using Flatpak
Flatpak is a well known and a robust package management platform allowing users to install applications easily. Even this can be used to install GIMP editor on Ubuntu. To install Flatpak on your Ubuntu desktop, run the commands here:
sudo add-apt-repository ppa:alexlarsson/flatpak
sudo apt update
sudo apt install flatpak
Next is to add Falthub repository with this command:
flatpak remote-add flathub https://dl.flathub.org/repo/flathub.flatpakrepo
Now, you can search for GIMP application if available through Flathub repo:
flatpak search gimp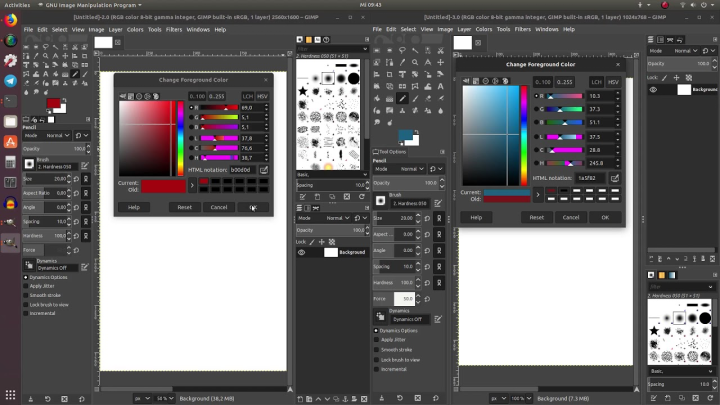 And finally, run the commands here to install GIMP photo editor:
sudo flatpak install flathub org.gimp.GIMP
The installation process will begin, follow on screen instructions to complete the installation successfully.
Install GIMP on Ubuntu using Snap package manager
Alike Flatpak, Snap is also an alternative option that allows users to install various applications easily. To install GIMP editor using this package manager, follow the instructions.
At first, update your system cache and install Snap package manager.
sudo apt update
sudo apt install snapd
Now, install GIMP editor easily with a single command.
sudo snap install gimp
Running the command will initiate the installation process which may complete in a minute or two depending upon on your internet speed once complete, you can access the app through Applications menu in Ubuntu.
Conclusion
GIMP editor is a popular image manipulation program that is available for cross platforms including Linux, we hope you have successfully installed the app on your Ubuntu versions, as the installation steps are very easy. Do share this tutorial with your friends. If you have any question, you can click to Visit Our Discussion Board.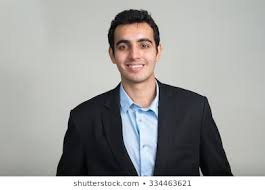 Nishant Verma is a senior web developer who love to share his knowledge about Linux, SysAdmin, and more other web handlers. Currently, he loves to write as content contributor for ServoNode.