Failed To Establish The VPN Connection Forticlient Error (Fixed)
In this article, we have discussed how to fix "Failed to establish the VPN connection" Forticlient error. This error usually appears on screen while attempting to connect to VPN. If you are facing off such issues too, this article will help you fixing the issue easily.
About "Failed to establish the VPN connection" Forticlient error
We all know that Forticlient is one of the reliable VPN tool that offers to connect to internet anonymously by offering a VPN network. Although this application is very powerful, many a times the users have reported about the issue that the connection got stuck at status 98%, and never goes beyond that leads to disconnection.
The problem mostly dictates the issues with Windows OS WAN Miniport Driver, and the issue may occur with any app versions on Windows 10 (Other variants as well). If you are facing hurdles or problems while connecting to Fortificlient application after the system comes out of hibernation, then you can try out to fix the issue automatically by just restarting your system and network device.
In some cases, the eruption of "Forticlient Error" or "Forticlient VPN Connection Error" may also occur when you attempt to connect multiple devices from a single internet connection. In this case, whenever you actually try to connect your second device, the first one will get disconnected. In order to overcome this problem, it's suggested to install Forticlient VPN application and create a SSL VPN connection.
Many users have reported that Forticlient Error also appears as "Unable to logon to the server. Your user name or password may not be configured properly for this connection. 9-120", mostly on Windows Server 19 Data Center VM. They even confirmed that they have properly logged into and configured their Forticlient VPN software. Based on such details, here are some commonly reported errors by Forticlient on Windows 10:
Applies to both SSL and IPSec: "Warning: unable to establish the VPN connection. The VPN server may be unreachable (-14)"
Applies to "SSL": "Warning : unable to establish the VPN connection. The VPN server may be unreachable"
Applies to SSL: "Failed to establish the VPN connection. This may be caused by a mismatch in the TLS version. Please check the TLS version settings in the Advanced of the Internet options. (-5029)"
Applies to IPSec: "Error: Wrong Credentials"
Applies to IPSec: The connection fails with no message
Applies to IPSec: "Error: Unable to reach tunnel gateway/policy server"
So, let's check out how to fix Forticlient "Failed to establish the VPN connection" error along with other issues in further sections.
Fix "Failed to establish the VPN connection" error in Forticlient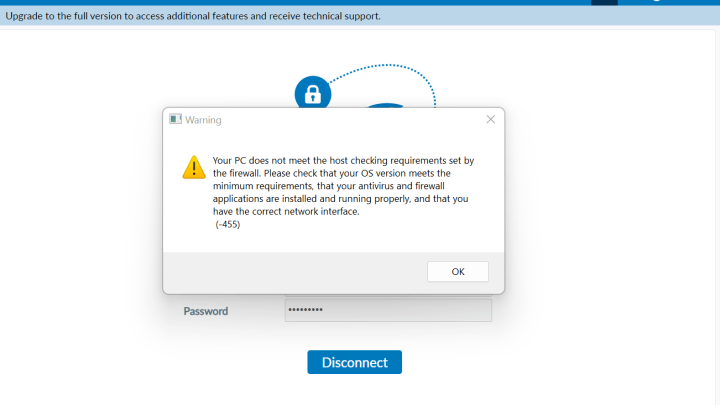 Since this error indicates TLS mismatch, here are the steps to sort out the issue:
Open "Internet Explorer" browser in your Windows 10 device
Go to "Settings > Internet Options > Advanced" and scroll down to check "TLS Version"
If "TLS 1.2" version is selected on client end, then you need to change to TLS 1.1 and/or TLS 1.0 on FortGate end.
Fix WAN Miniport, VPN, Dial-up Error Code 720, and more
At first, install "WAN Miniport Repair Tool"
Restart your computer
Now, run "WAN Miniport Repair Tool" and restart your computer to save the changes
Test VPN access now.
Fix Forticlient Error by reinstalling Miniport Driver
Press "Windows + X" key combination and select "Device Manager"
In "Device Manager" window, click on "View > Show hidden Devices"
Under "Network Adapters", there should be series of WAN Miniport: IP, IPv6, PPTP, IKEv2, etc. In case if these are not visible, then you will have to reinstall Miniport driver.
To download it, visit Microsoft official site, search for "devcon.exe" to download and install it.
Once done, you can find the different miniport driver names associated with your OS in "C:\Windows\inf\netrasa.inf". This path may vary based on OS versions.
Now, press "Windows + X" keys together from keyboard and select "Command Prompt as administrator"
Once CMD is open, type the following commands and hit "Enter" keys after each command.
Reboot your computer to take changes in effect.
Reinstall VPN Client software or hardware drivers similarly to resolve Forticlient errors
Alternatively, If you wish to check, download, and install all required drivers automatically without manual hassles, you can take help of here suggested automatic driver installer and updater.
Download Automatic Driver Updater App
How to make VPN Client work with Windows 8, 8.1 and Windows 10?
In order accomplish this task, just follow the instructions here mentioned:
Open "Command Prompt as admin"
Type the commands below and hit "Enter" key after each:
"netcfg –v ms_ndiswanip"
"netcfg –v ms_ndiswanipv6"
Once done, restart your computer and Windows will automatically detect missing devices and reinstall it.
Verify if required services are properly running in Windows
Press "Windows + R" keys to open "Run Dialog Box"
Type "services.msc" and hit "Enter" to open "Services" window.
Locate "Telephony", "Remote Access Connection Manager", "Secure Socket Tunneling Protocol Service" services. Double-click on each of them and check if the "status" section is set to started.
If not, click on "Start" button under "Service Status" section to start these services
Still stuck with Forticlient Errors? Update app to latest version
If you are facing Forticlient Errors on your Windows due to WAN Miniport driver, and if the app version is outdated, then this might be a possible reason why you are facing the issue. To sort this out, just update Forticlient VPN app to latest version (5.6), as the new version has fixed many bugs. Before you seek to install the latest version, it's recommended to uninstall the previous version completely from your machine.
In case if your PC ran into some problems after doing these processes, you might need to fix internal problems, for which you can try out here suggested automatic tool that can identify and resolve all internal issues in minutes.
Download Automatic Scanner To Fix Windows Issues
Final Words
Forticlient VPN app offers flexible features and functions to allow users connecting to internet safely to prevent various attacks and keep their data and information secured against hackers. However, this app may sometimes end up to show "Failed to establish the VPN connection" and more other issues too. In this article, we have discussed various approaches to fix those issues and we hope it helped you. Do share this tutorial with your friends. If you have any question, you can click to Visit Our Discussion Board.