Top 10 Forum Plugins For WordPress
In this article, it's going to discuss the Top 10 Forum Plugins for WordPress to allow users adding a community section to their WordPress site or blog. Forums and discussion boards are mostly considered as the best way to engage users with your site. Also, building a community is good for user's point of view to help and get helped when required.
Why to add Forum in WordPress site?
Since the WordPress now become a widely used CMS (Content Management System) that allows users to create site, personal blog, and even E-commerce website easily, it might require sometimes to WordPress users to deal with options like forum, question and answer board, custom social network, etc like features. This actually helps them to seek help or provide help to others in a built community.
For a Website owner's point of view, it helps them to keep their visitors engaged with their website and boosts the site's or blogs popularity around the world. And when it comes specific to those who are using WordPress as their favorite CMS for their blog or site, can still add such features, thanks to many WordPress Forum plugins which are now available, even for free as well. So, let's take a look over why choosing a good WordPress forum plugin is necessary.
Choosing the Best WordPress Forum Plugin In 2021
While adding a forum to your WordPress website, it's essential to test how the users are going to experience, and whether they are going to enjoy on your forum's front-end. Since you are the web administrator, obviously you will have to manage your community as well, and it too needs you to check if the plugin offers all suitable options to you like spam protection, user management options, and many more. Therefore, it's quite essential to know which WordPress forum plugin will be best for you. To help you out of this requirement, we have included a list of most popular WordPress forum plugin in 2021, which might help you to add forum on your WordPress site easily.
bbPress is the very first and one of the most popular plugin when it comes to speak about adding forum to a WordPress site. It's actually a sister project of WordPress.org which dictates that it's specifically built for WordPress and uses the existing WP-core to power the forum. Also, it's the option which is available since when there's no competition to it.
It's quite easy to install this plugin, set up, moderate, and maintain the forum on any wp-powered website. It requires no high end skills to create a forum and offers the interface which you be expecting to add in your community section. Let's a take a look over some of its features:
This plugin is completely free along with many free extensions as well.
Allows flexibility with so many available extensions to improve your forum functions. Some of the popular extensions are attachments, social sharing, breadcrumbs, and many more.
Offers the simplest way to add forum setup to your site without affecting speed related concerns.
Supports multisite forums, which allows users to control all multilingual forums from a single dashboard.
Offers a number of customization options like templates, colors, styles, and many more.
Supports akismet to prevent spam.
Allows to add forum with traditional look.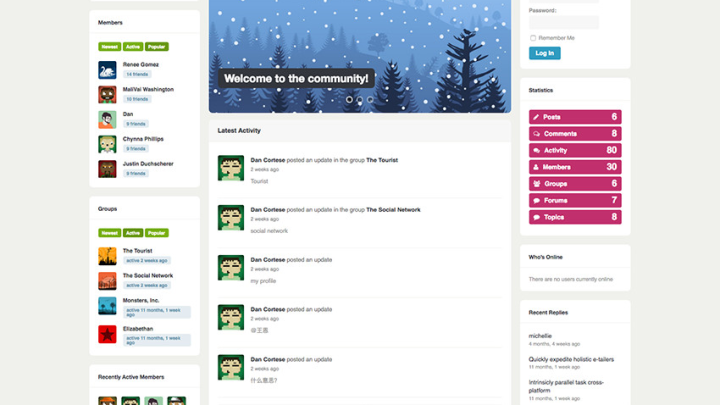 BuddyPress is another simple yet fully rich plugin to add your own social network within WordPress installation. Alike bbPress, BuddyPress is also an official WP plugin and includes the same program languages.
Means, if you like to create an online community with features to add user provide, activity streams, user groups, messaging etc, then BuddyPress is the best answer for you. Alike Facebook, it also allows users to add friends, send private messages, create groups and get notified of every notifications generated. And if bbPress and BuddyPress is added to a WordPress site together, will create a highly featured forum.
Let's take a look over the features offered by BuddyPress:
It's available for users totally free, and frequently evolving with new editions.
A large number of compatible plugins available to use with BuddyPress.
Allows website owners to turn their site partially or fully into a social network.
Supports multiple languaes.
Offers a sleek design options and allows users to comment, like or delete.
Supports profile extension, means users can easily add custom fields to their profile as well if required.
Supports notification for both the administrators and users as well. Even the admin can send out messages to entire community as well.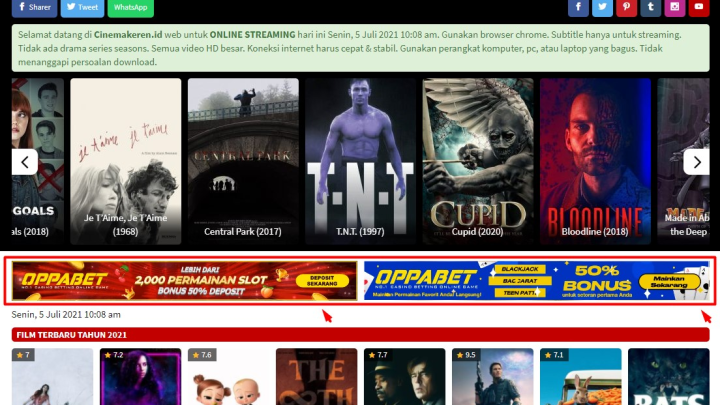 In the list of forum plugins for WordPress sites, we have also included ForumEngine as another best option to turn a WordPress installation into a fully fledged forum. However, this is not a plugin, actually a theme that turns your WordPress into a discussion board. This theme is very handy, still features a number of options to help creating a forum. Means, if you want to create your site completely as forum, choosing this theme is the best option. It shows all forum threats on homepage.
With the inclusion of this theme, you can create forums where the targeted users can easily interact by posting new topics, asking questions, replying to questions, liking or disliking a topic, following a topic, and many more. In addition, ForumEngine also offers a private space to users where they can access their personal activities too.
Here comes some of its features:
Allows to create a complete WordPress forum by adding a single theme (No additional plugins required).
Loaded with plenty of features like changing styles, appearances, and even more to create an authoritative forum.
Includes various widgets which the users can use to view statistics, categories, new and highly discussed topics, and so on.
Supports display advertisements as well, to monetize your WordPress based forum.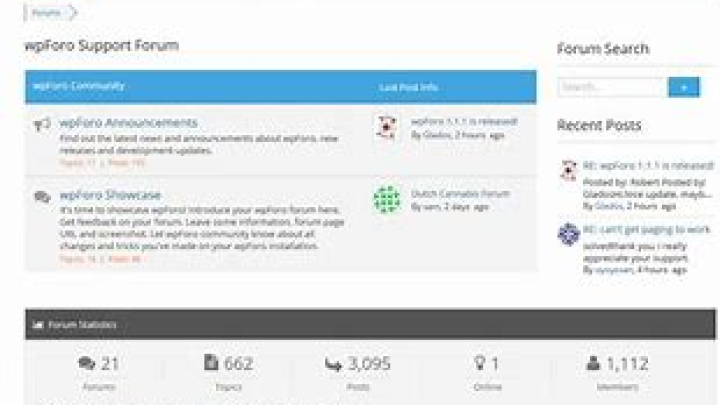 WPForo Forum is another free option in form of plugin for WordPress, however it includes various paid options as well if the user want to use those. Means, to add new features like custom user fields, ad management, polls, private messaging options, etc, the users will need to add premium addons.
So, this plugin is highly suitable for those who are interested in a modern designed forum in their WordPress installation. But, paying for its addons is really worth as it adds a number of custom features to make your forum look highly organized and beautiful. If you start with this plugin, you can deal with a few layouts, that can help you to choose the best and suitable design for your forum on WordPress.
Speaking about the best thing about this plugin is its built-in SEO and caching features. Means, with the use of this plugin, you can easily reach correct people on search engines, and that's too without affecting your site's overall speed. It's built-in spam protection feature and support to akismet plugin also helps to prevent your forum against unwanted spams.
Here are some of its features which you can avail with WPForo Forum plugin:
It's a modern designed plguin offers modern layout.
Offers users to vote the best answers and post answers to asked questions.
Includes an advanced profile system with badges and member ratings.
Offers a drag and drop editor option and needs not the administrators to mess with setting switches.
Allows users to subscribe to a selected hot topic.
Being consistency developed and improved by its developers.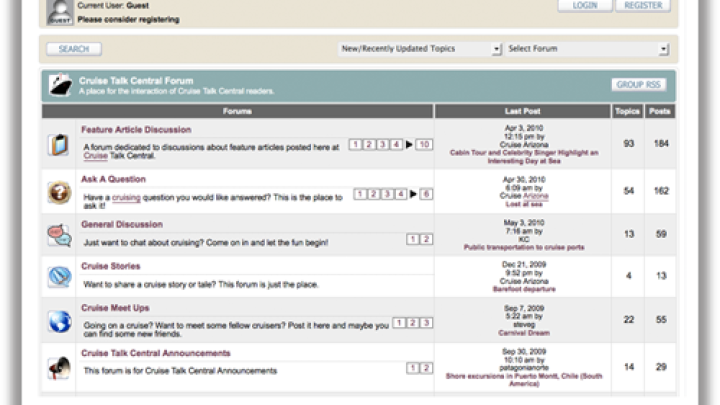 As the name reads, the Simple:Press is a very simple solution for users to add a forum to their WordPress websites. Based on the requirements, the users can also choose its paid version functions too, means it's available as free and paid as well.
With the help of this plugin, you can easily create unlimited forums, forum groups, and many more. In order the users, it offers administrators with a powerful user group and permission system. Let's learn more about its feature here:
It's fully integrated with WordPress CMS and supports WP registrations and logins.
Suitable for single WordPress sites as well as multisite installations.
A large base of premium plugins to extend the functions of forum.
SEO friendly permalinks that helps to display your topics in SERP.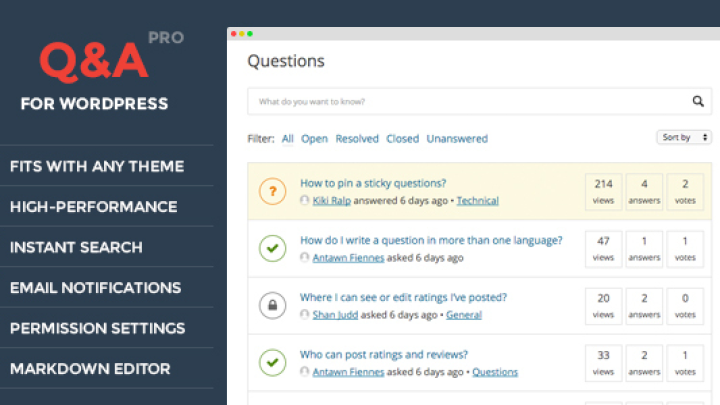 DW Question and Answer is basically a Q/A based plguin and offers to build a community like Yahoo Answers, and Quora. Although, its interface may look like Q/A based,s till it can be extended like forums. So, if you are willing to create a community on your WordPress site, then using this plugin allows you to get more control over quality and functions.
Technically, this plugin is an open-source project, still it has option to add some free additional plugins too to enhance overall functions. Some of the additional plugins are leaderboards, captcha, social sharing, and many more. Here comes some of its features discussed:
Offers to build a forum having Q/A based interface that includes voting system to show the best answer first.
Captcha system included to protect the site against spammers.
Integration of forum on any selected page by adding shortcodes.
Allows website owners to create a private Q/A section for private discussions.
A number of free addons are available to enhance overall functions of forum.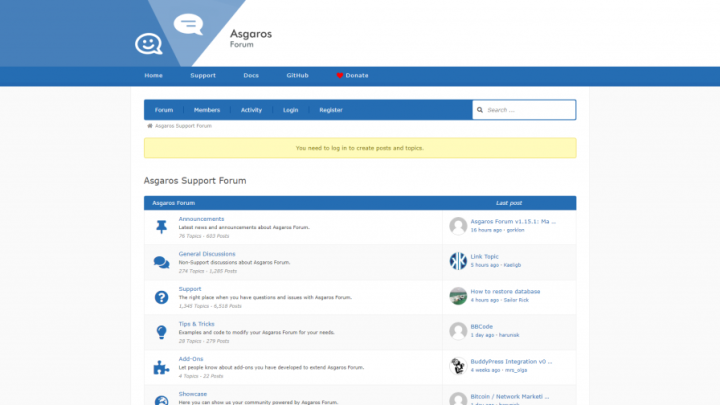 Being a very lightweight plugin, the Asgaros Forum plugin is the best suitable option for those who want to create a simple forum on their WordPress website. To start up with its setup and settings is quite easier for any user, still have a number of features to build a feature-rich discussion board. Here's some of its features:
It's suitable for both beginners as well as professionals to create lightweight forum.
Includes a number of options like content management, user management, and permissions.
Offers website owners to deal with statistics to see how well their forum is performing.
Supports multisite wordpress installation as well.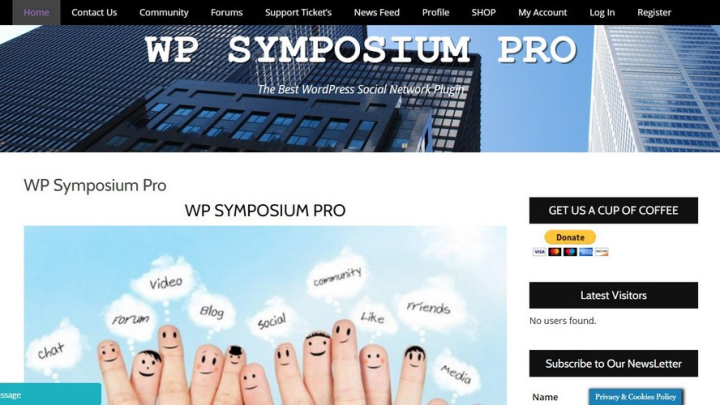 WP Symposium Pro is a good alternative to BuddyPress and offers an easy option to turn a WordPress site into a social network. In addition to forum and activity wall, it includes some more features as well which are available with highly renowned social networking platforms like Facebook. After the creation of a website, it offer the visitors to create their profiles, share their content, and even ask their discussions as well. Alike other social networking options, this plugin also offer users to send their friends with private messages to get connected.
Here comes some of its features that makes it a suitable option to build a full fledged online community:
Its premium version is available at very affordable price.
Allows to create a powerful social networking platform along with forum and more other functions.
Allows users to share their favorite contents on their wall or with their friends as well.
Web administrators can access a number of permissions and settings to keep their site protected against spammers.
Offers various styles, custom fields, and more other elements.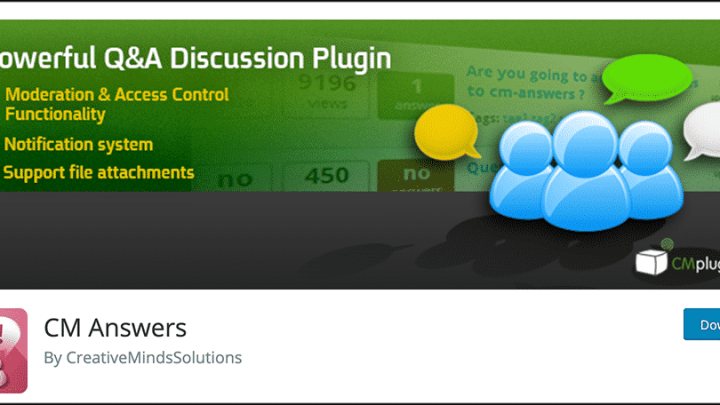 CM Answers is another powerful option for those who want to create a powerful Q/A discussion board on their WordPress site. Even its free available versions offer you deal with many options like setting up a great forum. With the addition of this plugin, users can do various things like posting questions, answering the questions, vote the answers, upload their files, and so on. For an admin point of view, it offers customized questions and answers, filter unwanted answers, and manage the users as well. Means, the included features easily help to build a successful online community.
Some of its features that users can avail, includes:
Integration with WordPress with very easy and compatible with most of the WP themes.
Allows users to upvote their favorite answer.
Based on requirements, users can add more additional features with its premium version.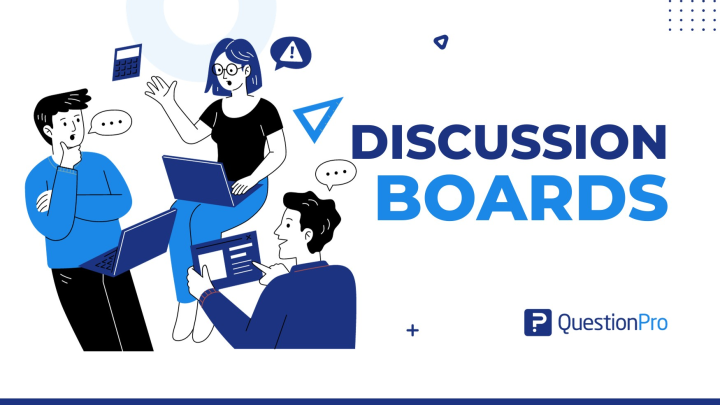 Discussion Board is an easy to install plugin or option for users to create online forum with WordPress installation, and alike all above, it needs no high technical skills. With the integration of this plugin, it adds front-end registrations and login system. Also, it adds more features too like restrict repost, moderation, and more to prevent the site against unwanted spammers. Take a look over some of its features here:
To use this plugin, Discussion Board theme is specifically available, however it can work with any theme as well.
Offers handy shortcodes to display forums, list of hot topics, and many more.
It's premium version is also available that is suitable for adding more options and features to forum.
Which is the best Forum Plugin among all?
Well, reading through the details of all above mentioned forum plugins for WordPress, you might be confused that which one is suitable for you at the best. Obviously, the answer should be based on your personal requirements. Here are some recommendations based on our personal thoughts:
The most affordable forum plugin for WordPress: bbPress
For creation of a fully fledged forum without additional plugins: ForumEngine
For easy creation of social networking site like community: BuddyPress, WP Symposium Pro (To add more additional features)
For adding a clean yet modern design forum: Discussion Board or WPForo
To create a Q/A based online community: DW Question and Answer, or CM Answers
Conclusion
Hope, you have finally decided which WordPress forum plugins can help you meeting your requirements at the best. If you are still confused or want more information on creation of a discussion board, comment in the section below. Do share this tutorial with your friends. If you have any question, you can click to Visit Our Discussion Board.